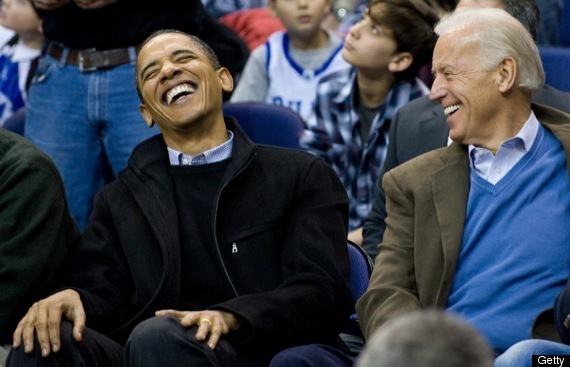 clark kellogg
and
verne lundquist
had
a little company
in the broadcast booth at today's duke-georgetown game.
Mr. Obama even handled some color commentary himself on a replay: "This was a terrific spin move and he didn't get any help coming back."

"That's well done," said Kellogg. "You can handle this job if you need to. Obviously, you've got one that's requiring a lot of your time and attention."

"After retirement, I'm coming after your job, partner," Mr. Obama said. "Just to let you know. You either have three more years, or seven, I'm not sure which, but you need to plan accordingly, since I'm going to do some play-by-play."

Mr. Obama was also treated to a replay of himself on the court. Let's go to the videotape: "That's heartbreak right there, oh," he sighed.

Verne Lundquist asked if the president, a left-hander, had any problems going to his right.

"I went to the Republican House Caucus just yesterday to prove that I can go to my right once in a while," he said, "but there is no doubt that I've got a stronger left hand."
let's go to the videotape: